Simple handling
thanks to the touch-screen and the movement joystick
Programming software
remotely or on board the machine
Up to 250 kg
of handling pieces using robots
Simple handling
thanks to the touch-screen and the movement joystick
Programming software
remotely or on board the machine
Up to 250 kg
of handling pieces using robots
Choose your work mode
Switch quickly from manual mode to automatic setting managed by robot.
Interfacing with the bending machine
Thanks to the smart unit that handles the robot and the press brake.
Perfect folds on the first try
Thanks to the sensors and the perfect coordination with the cartesian robot.
Easy and intuitive use
Intuitive management thanks to the touch-screen and movement joystick.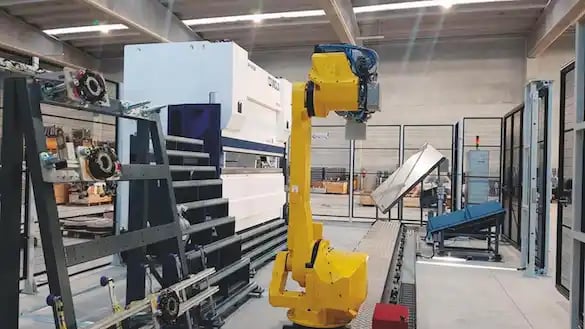 Everything is possible with MATRIX bending cells
The MATRIX bending cells are machines which are today in great demand on the market, designed to take up, fold and deposit profiles in metal sheeting;
all, completely automatically.

These machines today make possible the creation of items which was unthinkable until a few years ago. These are heavy units, up to 250 kg, with considerable thicknesses handled between the cut and folding.
Operations which, before robotic folding, were carried out using welding or other complex means.
Avoid operators from doing repetitive, tiring and risky tasks;
Lower costs because it reduces the discretion of the human factor;
Increases production cycle times;
Speeds up the work of people involved in other areas.
reliability of electronics;
repeatability of positioning, thanks to gear couplings with automatic clearance recovery;
the reduced force of the push against the rear stops for sheet metal alignment, so as not to compromise the machine in the long term;
the wrist of the robot is a hollow shaft.
The robot arm always remains horizontal, allowing the piece to be positioned in the matrix, supporting it either from above or below without ever sustaining interference with the piece itself.

The linear axes allow for positioning the MATRIX arm always in the same manner, both in front of all the folding stations as well as on all the pallets, simplifying its management

The horizontal runway beam is elevated from a height of 2300 mm to a height of 2950 mm, allowing for the passage of medium load lifting trolleys. The beam thus appears "transparent" with regard to the load, and in no way limits manual use.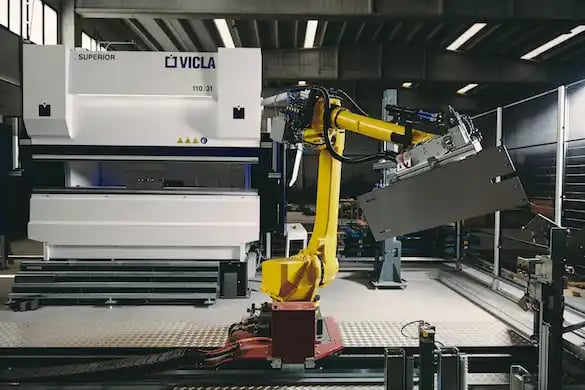 OUR EXPERTS ADVISORS AT YOUR DISPOSAL
Do you want personalized advices to find the best machine tailored for you?
Fill out the form and we will contact you.
A DIRECT CONTACT
The first step is here with us.
TRUST COMES FIRST
Before and after the sale.
LISTENING FIRST
Tailor-made solutions.
In VICLA the engine that moves everything is

passion