In sheet metal working, batches are increasingly small, complex and non-homogeneous. More and more efficient technologies are needed, while also trying to maintain compatibility with existing machines and services. This is why Nuova Inox decided to focus on VICLA'S ATC automatic tool changer combined with two .SUPERIOR press brakes.
Nuova Inox Srl, based in Rovato (near Brescia, North Italy), is a metal carpentry company for medium-light components. Founded in 1989, the company began with the management of small metal products and immediately stood out for its excellent ability to machine stainless steel, becoming a reference point in this field in just a few years. Nuova Inox has always believed in technological innovation, investing in facilities and auto-mation, it has also implemented a next generation management system which, combined with 4.0 technologies, makes the service qualitatively better with useful information for the customer. The strengths of the Lombardy-based company, which employs around 50 people, are its speed of response to requests, efficiency in the execution of orders, and timely deliveries. The work is based on customer projects which generally require the production of sub-as-semblies of machine carpentry in their vari ous sectors, especially packaging, food and medical, given the Lombardy-based company's specialisation in stainless steel and construction steel.
A comprehensive service
The entire activity is based on various stag es, starting from engineering, which is the stage where the design of a manufactured article is received in preparation for its real-isation, as Fabiano Fieni, General Manager of Nuova inox, pointed out: "The intervention of the engineering department serves to make any corrections to the incoming design with the intention of improving its characteristics, implementing better technical solutions to minimise the time needed for realisation. We are well organised to offer a complete service: after the technical department, there is the sheet metal and tube laser cutting department with different working ranges and thicknesses, able to meet most requirements. Then we have the bending division, in which we have recent ly concentrated our resources. More and more often we are producing small batches. these are not even prototypes for large or ders, they are really components of special machines custom-built by our customer, completely different automatic machines, true unique pieces which are very unlikely to be replicated except in very few examples" Nuova Inox's services are completed by the punching, welding, assembly and finishing departments, when necessary, not forgetting deburring, which is also useful for company safety.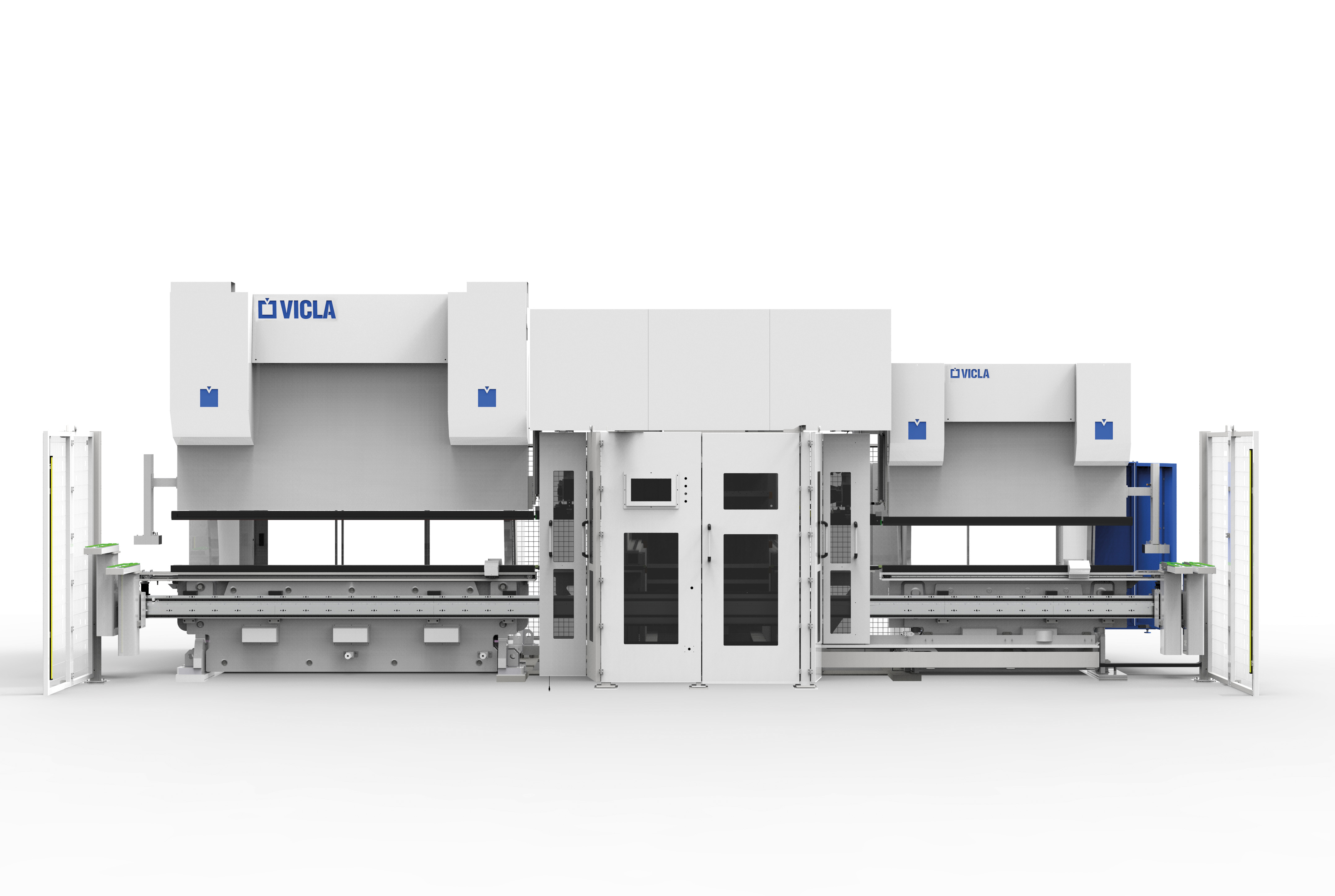 Compatibility first and foremost
The specialisation and care put into production have brought Nuova Inox great success in the market, but have also required careful optimisation of work, especially in the bending phase. The lat ter is particularly affected by both set-up times and the management of a vast number of unique codes associated with each job, including non-repeatable ones.
There was a need to reduce the time as much as possible on these components of different lengths and thicknesses: the bending set becomes laborious and par ticularly difficult to manage, due to several consecutive settings and a different bending logic from the standard. With a view to reinforcing the department by purchasing more press brakes, this phase had to be made smoother: "We examined the mar ket proposals. The first machines with automatic tool changers had already appeared, but we had requirements which could not be overlooked: interchangeability with our existing dies ( matrices and punches already present in the workshop), the fact of having a single magazine serving two machines and a bending CAM program which could manage the entire fleet of machines in the bending department and, finally, having machines equipped with the angle control device. At the time, our needs were met by VICLA, a company specialising in designing and building press brakes, shears and robotic cells in Italy. We therefore purchased two VICLA SUPERIOR 170 and 250 ton press brakes (3 and 4 metres respec-tively, both equipped with an automatic sheet metal loader and angle control de-vice) and a VICLA ATC tool change system to service both machines"
Speed and precision
VICLA'S ATC automatic tool changer is designed precisely to minimise set-ups when these operations follow one after the oth-er; the system can reduce them by 4 or 5 times compared to manual operations. It also eliminates downtime between one phase and the next, allowing you to go di rectly from cutting to bending the part with out having to wait for traditional set-up times. In the new cell, office programming is now managed, a non-trivial operation in this new operational strategy, which begins with 3D 'solid mathematics and ends with bent products. The VICLA SUPERIOR hybrid press brake represents the top of the range from VICLA: brushless engines with a high energy coefficient, active crowning, flex system, angle control and double guided ram. This family of machines is available in difierent configurations (lengths, pressure forces and controls); all are characterised by an extremely solid structure made of high quality steel, capable of absorbing and eliminating mechanical stress and guaranteeing excellent bending precision. For example, the double guide preserves the stability and perpendicularity of the upper crossbar with respect to the work surface: this allows bending precision to be maintained with different tools and intermedi-ates, guaranteeing that the centring carried out at the test is maintained over time.
A value not to be forgotten
At Nuova inox we have seen that an operator's decades of bending experience is really an added value: "we have seen," General Manager Fabiano Fieni concluded, "that not infrequently these professionals are capable of inventing' a equivalent or better bending strategy than the one suggested by the soft. ware itself. But not evervone is such an ex-pert, and so cam programming combined with automation is very useful in routine op-erations, through which even beginners can become productive, indeed, they can take advantage of CAM to build on the results and therefore learn! We have put in place a system consisting of press brakes, stor age, ergonomics, set-up time reduction and safety, without neglecting the 4.0 approach and the tracking of the various steps. We are confident that this set-up in the company will allow us to consolidate our carpentry business through improvement of production capacity. As for the future, we look for ward to automation for welding and finish-ing, always ready to innovate".